Home Fall Maintenance Tips
Fall is here! Everywhere you turn in the GTA you see beautiful colors, pumpkin spice everything, and Halloween decorations, and those are just a part of what this season brings. As cold weather approaches it is important to complete several fall home maintenance items to make sure you are ready for winter. For the full video click HERE.
Clean, or possibly replace, your gutters
Your gutters drain a huge amount of water each year, their job is to move the water away from your home. Unfortunately dirt and leaves can get trapped inside as well; which causes flooded interior and damaged exterior. If you have overhanging trees, you are most likely going to do it more often. A yearly check up is a must.
Check for drafts
Large heating costs? Check to see if hot air is escaping from your windows and doors, if it is your windows should be looked at and repaired if not replaced.
Drain your outdoor faucets
One of the most common things that people forget to do for the winter is to shut off their water. This could damage your pipes and potentially cause leaks into the inside of the house.
Bring your outdoor furniture in
The winter cold will ruin furniture, kids toys, and everything else left outside. Try stacking them together and covering with a tarp, storing them in a shed or bring them inside the house.
Change your filters
You are breathing all the hair and dust accumulated in the filter that your not changing. The recommendation is to change them every 6 months.
Fix any cracks in your driveway
The frequent change in temperature is the enemy of driveways, between the expansion and shrinking with every season you will end up with potholes which can damage your car or a danger to visitors.
Fertilize your lawn
Fall is our clean up month, which means, clean your leaves, cut hedges and fertilize your lawn and get it ready for the next spring.
Test winter equipment
After sitting around for 6 months your equipment might need maintenance. Check that snow blower turns on.
Change your batteries
Make sure that you replace all the batteries in your smoke detectors and carbon monoxide devices at least once a year.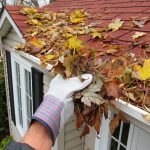 For Full Video Click HERE